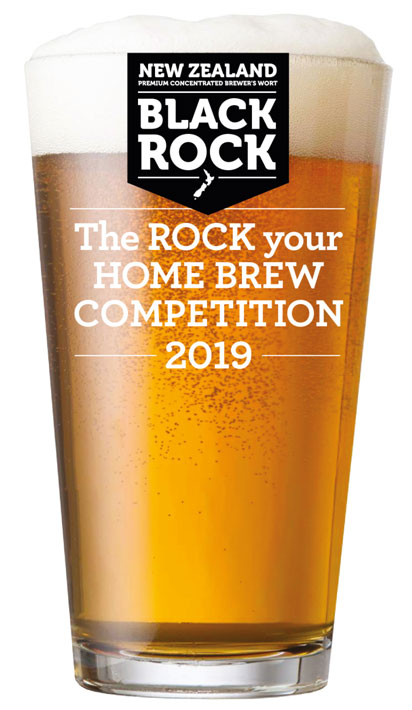 ROCK your HOME BREW Competition
Are you Australasia's Best Home Brewer?
Buy two cans of Black Rock and prove it!
Put your home brew where you mouth is and come up with Australasia's best home brew recipe and you'll WIN a trip to Dunedin NZ and a whole bunch more! Entries must be received by 13th September 2019. Recipes must include at least two cans of any Black Rock product for 18-23L brew. Register Here and see full Terms and Conditions here.
Black Rock brewery-fresh wort for the win!
In 2018 Black Rock went to New Zealand's largest Craft Beer Festival with a goal, to see just how craft beer brewed with Black Rock in basic home brew equipment would stack up against 51 other breweries and their 374 beers.
Over the 2 days and 4 sessions 16,000 attendees had the opportunity to try the 5 beers and 1 cider we brewed from Black Rock Products and rate them via an app vs all the other beers served that weekend. All of these were brewed with basic home brew plastic fermenters under the same conditions a home brewer would have at home using 2-3 Black Rock hopped or unhopped products.
Here are the results:
Black Rock Double Take IIPA People's Choice Session 4 WINNER
Insomnia Coffee Bourbon Porter 7th equal overall
Insomnia Coffee Bourbon Porter 2nd place 1st session, 4th place 2nd session
Berrylicious Cider 22nd place overall (Beer & Cider), 2nd equal Cider overall
So.... Now we know Black Rock stacks up against the best in the business. That's why in 2019 we want to find Australasia's Best Home Brewer!.
All our current recipes can be found at www.blackrock.co.nz/recipes to get an idea of what is possible, but don't copy us…….we want to see how creative you can be!!
---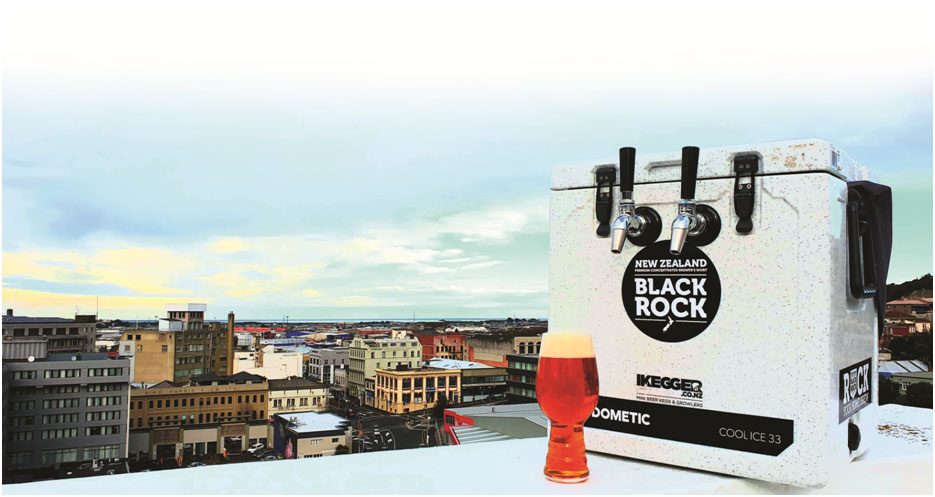 What can I win?
We have some fantastic prizes up for grabs.
The top 10 recipes will be published for everyone to brew at www.blackrock.co.nz/recipes and through our social media channels giving you full kudos and bragging rights.
1st Prize includes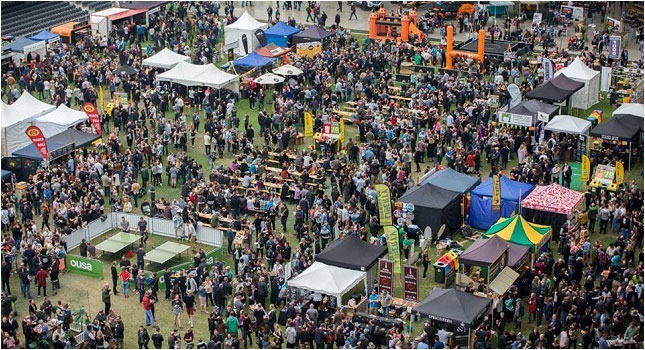 Return flights for two to Dunedin for the Dunedin Craft Beer Festival 2019 (from anywhere in NZ or Australia - unless you are local to Dunedin)
2 nights Dunedin accommodation for 2 people.
A tour of the Black Rock Brewery while in Dunedin.
2 tickets to Dunedin Craft Beer Festival 2019 (8th or 9th November)
Your recipe re-brewed by our Master Brewer and on tap as one of our beers @ Dunedin Craft Beer and Food Festival 2019
A Black Rock & iKegger NZ branded 2 tap Jockey Box to take your beer anywhere. *Jockey Box may be different to pictured.
Some awesome Black Rock & iKegger merchandise.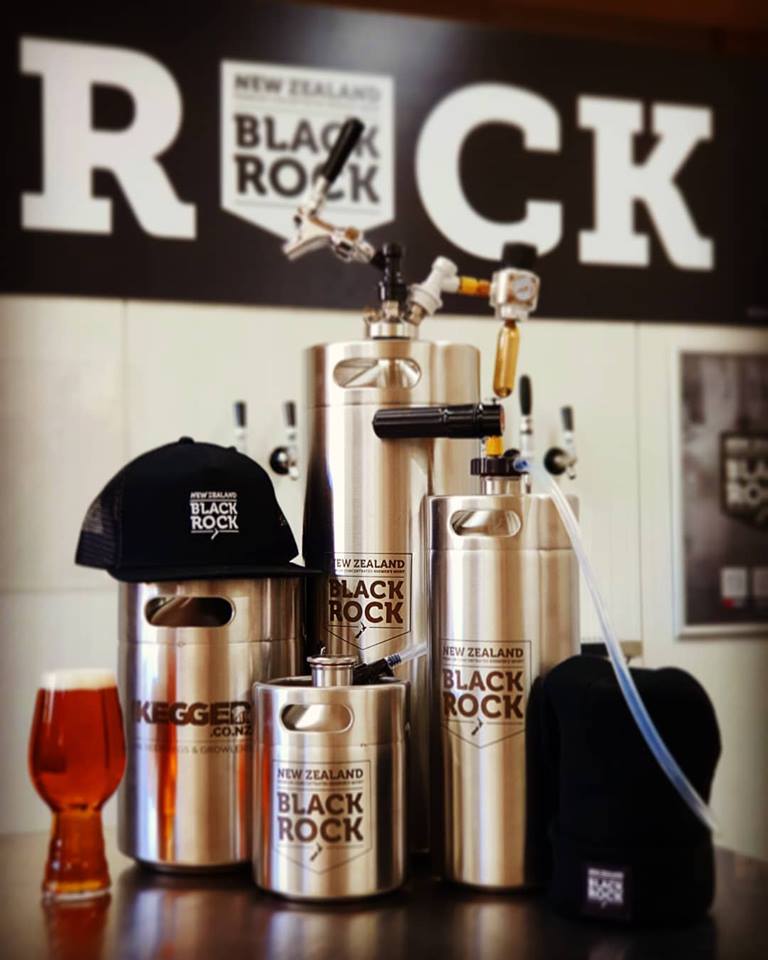 2nd Prize
10L iKegger Mini Keg with brewers kit & tap
Black Rock and iKegger merchandise
4 cans of Black Rock from your local home brew store
3rd Prize
5L iKegger Mini Keg with brewers kit and tap.
Black Rock and iKegger merchandise
4 cans of Black Rock from your local home brew store
Other Prizes:
All top 10 brewers (bar 1st, 2nd & 3rd placings) will also receive their next brew free from your local home brew store (2 cans of Black Rock) as well as Black Rock merchandise.
FAQ'S
What will it cost me?
Free entry! All it will cost you is the ingredients to make your brew, 2 bottles of your brewtifully brewed goodness and the shipping to get it to us in time for judging.
How do I enter?
First you need to register each of your entries here »
Once you enter online we will send you an email with your entry ID for that brew.
You will need to fill the entry form out once per brew you want to enter.
Once your brew is ready - you will need to send 2 bottles for each of your entries (minimum 330ml size) and your recipe for each entry (unless recipe submitted online) to:
Rock Your Home Brew Competition
200 Rattray Street
Dunedin 9016
You must attach a tag with entry ID and brew name / type per entry to each bottle (2 bottles per entry). Bottles without an ID or recipe submitted will not be judged.
No other markings on the bottles allowed apart from entry ID and brew name / type.
Entries must be registered entered online by 06/09/2019 and we must receive your beer by 5pm 13/09/2019.
If you have any issues entering or questions please go to the contact us page or send us a message on facebook
We will contact you if further details are needed for your entry
Who can enter?
Anyone over the age of 18. Never brewed before? Have a go - It's a lot of fun!
Been brewing for a while and your friends say your beer is pretty good? Sign up here and see how you go..
Tried a few brew kits before but not Black Rock? Have a go....you know what they say about once you try Black….
Partial Mash Brewer? Have a go...nothing wrong with adding your own spin with specialty malt flavours….
One of those "I only brew from All Grain" guys or gals? Have a go....You might get back half of your Saturdays and be able to take up something like CrossFit with the time you save...
What ingredients can I use?
The only requirement is you must use at least 2 x Black Rock products (Hopped Kits, Unhopped Malts or Liquid Brewing Sugar) in an 18-23L brew. You can small batch brew if you like, your recipe just needs to be scaled up to 18-23L when submitted for judging.
Outside this you can use whatever ingredients you like in terms of hops, grains, yeast, flavours or additives as long as they are readily available to the public – remember the top 10 recipes will be published for others to brew at www.blackrock.co.nz/recipes
Can I enter Cider or is it just beer?
Absolutely. As long as you use Black Rock Cider as you base (2 cans cider or 1 can cider & 1 1kg Black Rock liquid sugar).
How will my brew be judged?
Our Master Brewer Stephen Whitehead will be leading our judging panel. Steve has been brewing professionally for nearly 30 years in some of the largest breweries in UK and NZ. He has previously judged at NZ Brewers Guild Awards, RABCA (Royal Adelaide Beer and Cider Awards) and Dunedin Craft Beer Festival.
We are looking for the best beer. Although we will not be judging according to official BJCP guidelines we will be asking you to provide a style to describe your beer. You can go to this link to see where your beer might fit if you are unsure.
What equipment do I have to brew in?
Whatever you like....we have proved you can make a great beer in a plastic fermenter, so you can use these. You might be one of those posh brewers with shiny stainless steel…they work too. You can brew under pressure, brew in a keg, wild ferment....whatever!
How long do I have to brew my creation?
We want to judge all entries, announce a winner and brew their beer in time for Dunedin Craft Beer festival 2019. Your entry must be registered at www.blackrock.co.nz by 5pm on the 6th September 2019 and we must receive your beer by 5pm 13th September 2019.
Any other questions?
Please see our full rules page here.

Still have questions? Contact us here: