HOME BREW RECIPES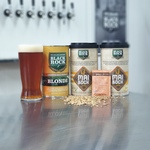 Belgian Style Blonde
This partial mash recipe creates a low bitterness easy drinking Belgian Blonde.


Ingredients:
2 x 1.7 kg Black Rock Maibock
1 x 1.7 kg Black Rock Unhopped Blonde
300g Milled Toffee Malt
11.5 g SAFALE BE-256 yeast


Recipe:
Overview: This recipe requires a partial mash step see "Partial Mashing your Brew" in the "How to Brew " tab at www.blackrock.co.nz for tutorials if you are new to this procedure.
Clean & Sanitise fermenter and associated equipment for brewing.
Dissolve the 5.1kg of liquid wort concentrate in 12 Litres of water and heat to 64degrees celcius. Mash the milled Toffee Malt in a grain bag or hop spider for 45 minutes maintain-ing this 64 degree temperature.
Remove the spent grains and bring the wort to the boil, allow to boil for 10-15 minutes.
Cool as quickly as possible to approximately 20-30 degrees then add to your fermenter.
Top up with cold quality brewing water to 23L and achieve a temperature around 18-20 degrees.
Sprinkle dried yeast onto wort surface and ferment at a temperature of 18 degrees celcius until gravity reaches 1.013
Crash cool fermenter to 1-3 °C for 48-72 hours and keg or bottle using standard practices.
Specification:
Alcohol: 6% ABV
Bitterness: 18 IBU
Colour: 16SRM

Pilsener Malt, Munich Malt, Green Bullet Hops.