HOME BREW RECIPES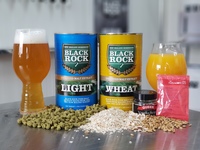 Mango Milkshake - DCBFF 2018
A tropical smoothie of Eldorado, Mosaic, Mango & Vanilla. Big on juiciness and summer quenching.
Ingredients:
1.7 kg Black Rock Light
1.7 kg Black Rock Wheat
500g Ale Malt
600 g Rolled Oats
300g Flaked barley
250g Crystal120
100 g Raw wheat
300g Lactose Powder
37 g El Dorado, 60 g Mosaic Hop
2 tsp Vanilla paste, I vanilla bean
1 L Mango Puree, 11.5g Fermentis US05


Partial Mash Recipe:
Mash Oats, Barley, Ale malt and Crystal malt in 15 L of quality brewing liquor at 64 °C for 40 minutes.
Add 3.4 kgs of wort concentrate and adjust volume to 23 L
Boil 30 minutes with 7 g of Eldorado hop
Whirlpool Lactose powder, 30 g Mosaic, 30 g El Dorado & 2 tsp vanilla paste
Immersion chill brew to 20 °C.
Clean & sanitise fermenter and associated equipment
Fill fermenter and pitch yeast at a start temperature of 20 +/- 3 °C.
Day 5 add vanilla bean.
Day 7 add 30g of Mosaic hop and 1 L of mango puree
Allow 3 days of infusion, then crash cool fermenter to 1-3 °C for 48-72 hours and keg or bottle using standard practices. Expected FG of 1018.
Specification:
Alcohol: 5.4% ABV
Bitterness: 40 IBU
Colour: 8 SRM 

Black Rock Wort contains: Pilsner & Wheat malts