HOME BREW RECIPES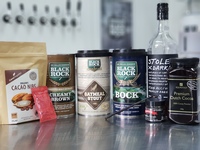 RnR Milk Stout - Beervana 2019
Juicy Californian raisins aged on Jamaican dark rum amplify a decadent and moreish vanilla milk stout treat.
Ingredients:
1.7 kg Black Rock Oatmeal Stout
1.7 kg Black Rock Bock
1.7 kg Black Rock Creamy Brown
600 g Californian juicy raisins
350 mL Stolen dark rum
1 Vanilla pod
400g Lactose
80g Dutch cocoa powder
100g Cacao nibs
2 tsp Vanilla paste
23 g Fermentis US05 yeast
Recipe:
Steep raisins and a vanilla pod in dark rum in a jar. Allows infusing for 9 days during fermentation
Clean & Sanitise fermenter and associated equipment for brewing.
Dissolve 5.1 kg of wort concentrate, lactose, cocoa powder, and vanilla paste into 2.5 Litres of boil-ing water in a large jug and add to fermenter . Add cacao nibs and fill with cold brewing water to 21 litres achieving a starting wort temperature of 20 +/- 3 °C.
Add dried yeast and ferment for approximately 9 days until a gravity of approx. 1028 SG is achieved.
Add the rum and raisin infusion and secondary ferment for a further 5 days.
Crash cool fermenter to 1-3 °C for 48-72 hours and keg or bottle using standard practices
Specification:
Alcohol: 8.1% ABV
Bitterness: 27 IBU
Colour: 150 SRM 
Black Rock Wort contains:
Pilsner, Chocolate, Caramalt, Crystal, Black, Oats, and Roasted malts.