HOME BREW RECIPES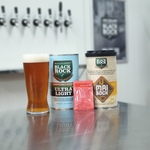 Helles Lager
This easy to brew German style Helles Lager will keep you doming back for more. Complimented with Munich malt to give a nice biscuity flavored lager.


Ingredients:
1 x 1.7 kg Black Rock Maibock
1 x 1.7 kg Black Rock Unhopped Ultralight
11.5 g US05 yeast


Recipe:
Clean & Sanitise fermenter and associated equipment for brewing.
Dissolve the 3.4 kg of liquid wort concentrate & 2 Litres of boiling water in a large jug and add to fermenter. Fill to a total of 23 Litres with quality cold brewing water, achieving a starting wort temperature of 20 +/- 3°C.
Sprinkle dried yeast onto wort surface and ferment at a temperature of 18 degrees celcius until gravity reaches 1.008
Crash cool fermenter to 1-3 °C for 48-72 hours and keg or bottle using standard practices.
Specification:
Alcohol: 4.51% ABV
Bitterness: 11.9 IBU
Colour: 6SRM

Pilsener Malt, Munich Malt, Green Bullet Hops.